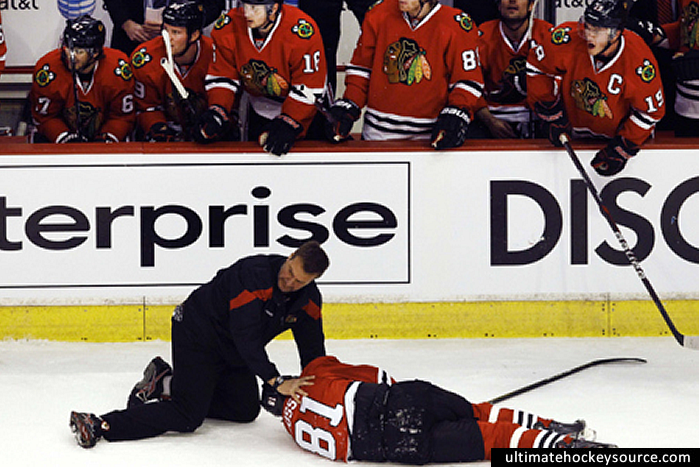 As the Sheriff of the National Hockey League's Department of Player Safety, Brendan Shanahan laid down the hammer on Raffi Torres of the Phoenix Coyotes today for 25 games on what was a hit he delivered on Marian Hossa during game 3 of the team's Western Conference Quarterfinal playoff series in Chicago on April 17.
It was stated this way, 'Should the 25 games not be served by the conclusion of the 2012 Stanley Cup Playoffs, the remaining games of the suspension will carry over into the following regular season. Raffi Torres will be prohibited from playing in any preseason games until he has served this 25-game suspension.'
Also should the suspension carry over to next season, because he is classified as a repeat offender under the Collective Bargaining Agreement, Torres will forfeit $21,341.46 in salary for every regular-season game in which he is uneligible to play.
The following quote from Shanahan on 3 key factors that made his decision on the 25 game suspension is noted here,' This is a violation of three NHL rules, Interference, Charging and Illegal check to the head.' I guess you could say '3 strikes and you're out!'
This suspension ranks among the longest suspensions in NHL history, just equaling Chris Simon's cross-check to the face of Ryan Hollweg in 2007 and also to Jesse Boulerice's cross-check to the face of Ryan Keslar in 2007 as well. But remember none of these players lost out in any playoff games but Torres will and in the eyes of the Sheriff, rightfully so.
But really this suspension isn't what most people think it will be, no way at all. What most think it is, and this I totally disagree with, is it will be a benchmark of future suspensions. I'm sorry but this suspension was handed out because of the player who did the crime (Torres) and who the hit was against (Hossa) nothing more, nothing less.
Will this change the way Raffi Torres plays in the future, no. He even admitted that this is his style of play and he has no intentions of changing, "Its the only way I know how" is what he said.
Will it change the way some others play their game, no, as you will remember some other vicious hits that have happened over the past years that have had long suspensions handed out. One comes to mind quickly for me is the hit on Pierre Turgeon of then the NYI, done by no other then now Washington Capitals head-coach Dale Hunter when he donned the Caps jersey in the 1993 playoffs. After a celebration goal by Turgeon, Hunter laid him out against the boards with such brutal force that it knock out the Islander plus cracked the glass behind him. All Hunter got for that insistent was a 21 game suspension and a finger pointed at him to stop doing it. Did it help out the league then, no, as players will continue to play with force as they are bigger, stronger and faster then years gone by. But what hasn't changed in the NHL is the rink size for these mammoth players and I ask why not? Just take a look at the article of 'The Longest NHL Suspensions In Hockey History' where it lists the suspensions from Simon's 30 games, Simons 25 games, Marty McSorley 23 games, Todd Bertuzzi 20 games, Jesse Boulerice 25 games and to the 'Life Time Ban' suspension of Billy Couto in 1927, who assaulted 2 officials and started a line brawl which emptied both benches, created an all out brawl which supposedly made the Junior Team Canada brawl in 1987 look peaceful. It also list the players who were actually 'Charged' by the law for on-ice incidents, you might be very surprised at what you read.
What this suspension says is that Raffi Torres did an illegal hit that the NHL is trying to eliminate, head shots and attempt to injury, it is about Raffi Torres period. It won't hold back others but some might come close to a suspension of this magnitude, but it was Torres who had been told and told and told he can not play that way anymore or he won't play at all.
Now does the league and the players association look into some major changes while they battle out in the board room this summer over the CBA? I'm not really sure if any changes to the rules that they already have changed can do any different? But what they might wish to look at is the manufacturing of the equipment, the size of the ice surface and just maybe video replay for hits like Torres delivered, but who knows if anything will come out of those meetings to help the game.
We also must realize too, that this hit by Torres was wrong, it was a hit that 'crossed' the line and what is acceptable in the rules of the NHL. Sure there has been other hits that should of been suspensions for a long time but they weren't because the player doing the damage has no history of being a dirty hitter or the player being hit wasn't injured. What the players must learn from this is that there is a limit now for stupid hits, dirty hits that cause injury and that you will pay the price.
I wonder now if we asked Raffi Torres if it was all worth it? I wonder what he might say now.
By Warren Nye, UltimateHockeySource.com
April 22nd, 2012