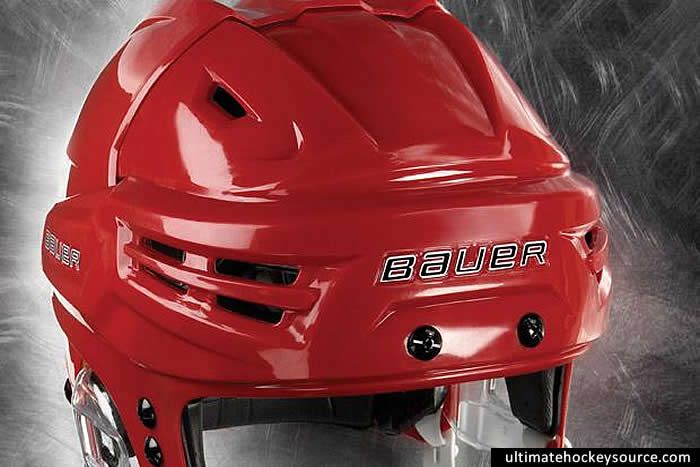 Finally!! One of the major manufactures of hockey equipment is getting it. The Bauer Corporation of sports/ hockey equipment has developed a new helmet that will help reduce head injuries.
Bauer unveiled its Re-AKT helmet yesterday in Ottawa at the NHL All-Star festivities along with Dr. Mark Lovell, the retired founding director of the University of Pittsburgh Medical Center's sports medicine concussion program. The good Doctor and Bauer states that the new helmet is the first helmet designed specifically to manage multiple hits, including rotational-force impacts from turning the head, which can cause significant head injuries such as concussion.
We have done several scientific studies that have shown a significant correlation between rotation force impacts and head injuries, and it is important to look at solutions to help protect players from these impacts, claims Dr. Lovell.
The Re-AKT features a special liner that will protect the head excessive rotational acceleration when the helmet is hit. It is made with a light, pliable material that dissipates extreme forces on impact, Bauer states.
At this weekend festivals for the NHL All-Star game there was a couple of players interviewed as well in regards to the the new helmet and one player who will be wearing it explains why he is endorsing it. Claude Giroux of the Philadelphia Flyers who missed 4 games due to a concussion earlier this season explained that 'No helmet is going to completely prevent concussions, but helmets like this one are providing a extra level of protection, which is very important in today's game.'
Steven Stamkos of the Tampa Bay Lightening also mentions ' It comes down to player accountability. We can wear all the new equipment that we want but you have to be aware of what your are doing on the ice.'
When the Public Health Agency of Canada launched its "Active and Safe" educational program to reduce concussions and other braininjuries among children and youth last week, safety experts stressed that helmets can't protect against all injuries. With Bauer coming out first with this type of helmet it is showing the public that manufactures of hockey equipment are moving in the right direction.
To check out more of the Bauer Re-AKT helmet and other new equipment coming out for the 2012 year go to www.bauer.com
With all the talk and debate on the head injuries that have been happening it is great to see some new product coming out. In the weeks ahead we will reviewing other equipment manufactures that are developing new lines of equipment for 2012 – 2013 season ahead so check it out!
By Warren Nye, UltimateHockeySource.com
Photo Credit: Courtesy of Bauer
January 28th, 2012