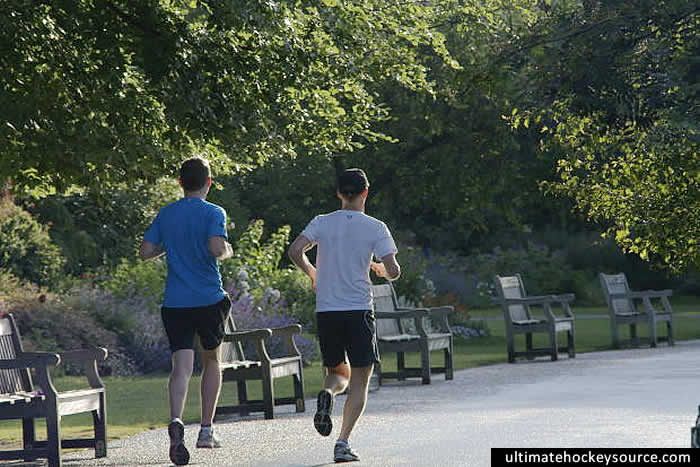 As the 'Dog-days' of summer are moving along and the heat can be unbearable at times, the thought of training for the up coming hockey season can be tough to do right! But you must if you want to be an elite hockey player and move on towards your goals and dreams of playing professional hockey someday.
I get asked alot from players, especially the young guns, where do I start? and who do I start with? All good questions regarding dryland training. You see not everyone can afford a personalized trainer and I have come across a program that is online that you can train on your own but get guidience from personal trainers and professional hockey players on the 'How to' and the 'What not to do' guidelines.
This on-line hockey training program is called HockeyOT.com and was started by Dr. Chad Moreau who was a former strength and conditioning coach in the NHL. It is an on-line hockey training program using baseline and progress testing to record and monitor each members custom dryland training.
Some of it's features include, custom workout programs based on age, height, weight, level of play, experience and position. It has a 'Patent Pending Routine Generator', nutrition program with customer meal builder and also a custome monitoring system for coaches to track the players progress. The last item which I really think is unique and great to have is the library of over 360 high-definition instructional exercise videos.
Not to get into too much detail on how it all works, I will let Dr. Moreau do all that, but what this program will do for you is fantastic. Depending on the student and level of play a program will be designed for you. There will be techniques that will rapidly help you improve your on-ice performance and benchmarks will be set up to help you monitor your progress as well.
There is constant communication with the clinic and yourself via email or phone, always available to help you out. This is the area that I was a little worried about but was assured after doing some 'homework' that there is no doubt the help is always there.
Like I said at the start, it's not to late to get going on the dryland training if you haven't already started and what better way to start is getting the professional help and to know the fact that these programs work, just go ask Jarret Stoll or Matt Greene, two users of the HockeyOT.com programs. HockeyOT.com
By Warren Nye, UltimateHockeySource.com
Photo By Karpati Gabor
July 24th, 2012