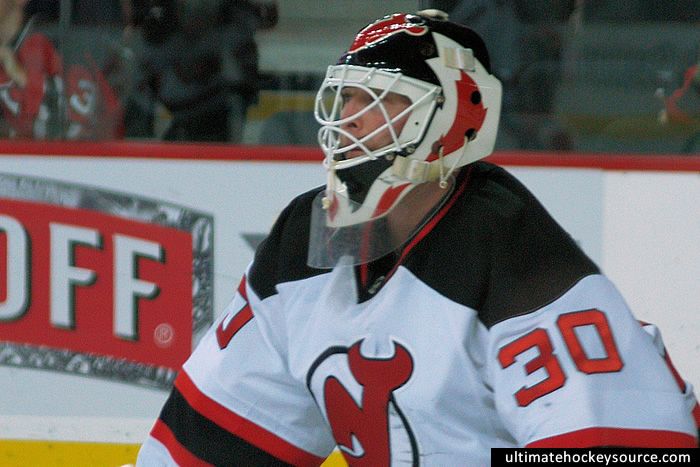 A bad bounce for the tying goal against future Hall of Famer Martin Brodeur didn't faze him nor his team mates last night, if fact I think it woke them up to start playing harder and to win . With this win the Devils have tied up the finals 1 game a piece against the 'Blue Shirts' of New York and now head back to the Jersey State for games 3 and 4.
The 40 year old 'tender of the netted twines' has been outstanding these playoffs and when you need players to bounce back from a close defect Brodeur is your man. As stated by the Devils forward and game winning goal scorer, David Clarkson, ' Marty has been unbelievable all season and some of the saves he's made in the playoffs, especially in the other series, is the reason we are here today.'
With goals coming Kovalchuk and forth liner Ryan Carter the Devils had themselves all tied up going into the third and just waiting for one the goalies to break. Tonight it was not going to Brodeur and really the other tender down at the other end of the rink, Lundquist didn't either but what he lacked was getting help from his team mates tonight.
More importantly in this game we saw the grinders do their jobs, create 'havik' in the oppositions end zone and crash and bang their way to scoring and lifting the visiting team to victory.
Into the third which we saw NY Rangers Gaborik's butt stuck to the bench after a big give away which resulted in the tieing goal by the Devils in that second period, the Devils came out hustling and hemmed the Rangers into their own zone, thus allowing them to set up and have Clarkson to put the NJ Devils up for good with a 3-2 win.
Now heading back to NJ for game 3 and turning the tides towards the Devils for home ice advantage. Game 3 is an afternoon game on Saturday (not again!!) where the Devils will be trying to steal this game and go up in the series 2-1 in games. While the Rangers will need to re-group and come out firing on all cylinders, don't be surprised if you see Lundquist come out strong with his play to try to out-duel the Future Hall of Famer Martin Brodeur and steal the 'Lime-light' away from him too, should be fun to watch!
3 Star Selections
1st Star – Martin Brodeur – New Jersey Devils
2nd Star – David Clarkson – New Jersey Devils
3rd Star – Ryan Carter – New Jersey Devils
By Warren Nye, UltimateHockeySource.com
May 17th, 2012