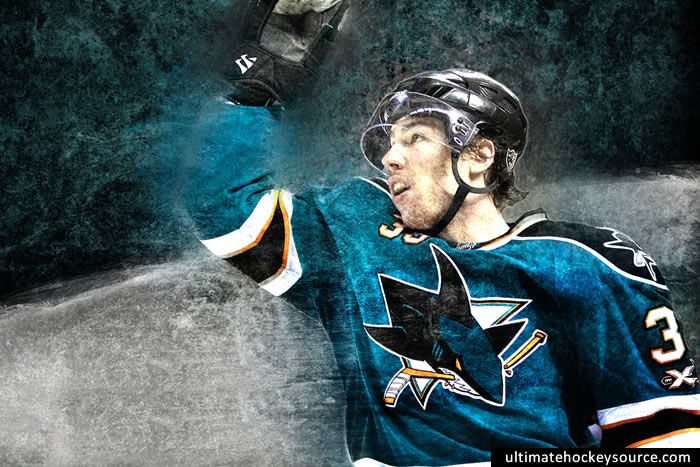 Now that was a Show! In the local arena of a small town situated in Western Ontario's farming community, the Star Players came out to pay tribute to one of there own who was giving back in his own way.
San Jose Sharks #39 Logan Couture grew up in this small town called Lucan (pop. 2100) known more for its Irish ancestors and the great Donnelly family who were the 'Hanson Brothers' version of off ice escapades but that's another story for another time.
Tonight was when the local kid makes it big and comes back home to share his wealth and that is exactly what Couture has done and will continue to do.
I'm not sure if it's the small town feeling or when you walk down main street everyone knows your name, so if as a youth you decide to get yourself into trouble everyone will know about so you better keep yourself out of it. Or is that when they say when you build a village you create a family atmosphere and I think that is why Logan keeps coming home to give.
And what a gift he gives. Just not with the hockey talent and the friends that come with him to play in his charity game no, no, no. What I'm talking about is the gift of $10,000 to the local minor hockey association plus along with the NHLPA and Logan, a donation of 15 brand new sets of jerseys. Now my friends that's a gift!
On top of all this it was the 60th anniversary of another historical event that took place in 1962 at the same arena (at least same spot, new arena now). The Montreal Canadiens came into Lucan to play the Lucan Irish for a charity game which drew well over 1000 people for it. What was so special again last night was for the opening face-off there was 6 originals from the Irish team who came out onto the ice hearing a raoring ovation like no other.
After all the ceremonies and thank-you's that went out the two teams went at, 4 on 4 style. So there was lots of skating, passing and quick break aways developed by Star NHLer's of the likes of Jamie McGinn, Ryan O'Reilly and Ryan Wilson of the Colorado Avalanche. Newly crowned Stanley Cup Champion Drew Doughty form the LA Kings was showing his stuff plus along with Logan from San Jose there was Andrew Desjardins. Some of you will know this fellow especially if you following the memorial cup champs of 2005. Past Knight and now Flyer Danny Syvret came in to play along with his younger brother Cory who plays in the ECHL Trenton Titans. And the guys that everyone feels sorry for this games are the goalies and we had some good one's here. Matt Hackett from the Minnesota Wild and Josh Unice of the local university in London, Ontario, Western Mustangs tender of the twines.

Just not NHL'er's came by to play neither, we had some local boys who have gone onto big things up to now. Greg Noyes who is at RIT playing varsity hockey and also was one of Logan's teammates growing up playing. We also had Jake Worrad a OHL Belleville Bulls player and along with Jake came Carter Sandlak who is from London and who his father Jim played in the NHL with the Vancouver and he happened to coach Logans team last night.
And I can not finish writing this piece without mentioning a great player and coach in the NHL who is friends of the Couture's that came in to be honourable coach for the game. That being Terry Crisp of the famed Flyers and who went onto coach the Calgary Flames to their first ever Stanley Cup in 1989. He kept everyone laughing with his stories of year's past thats for sure.
Once all that is said is done the evening was a success. The minor hockey organization reaped benefits beyond their belief and the locals got to enjoy the 'Stars of the NHL' with out paying those outragous prices and the NHLer's who were there had a laugh or two playing their game the only way they know how!
By Warren Nye, UltimateHockeySource.com
August 12th, 2012