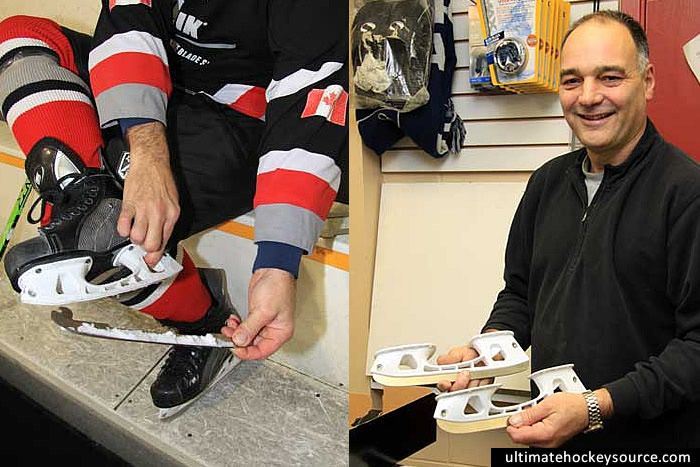 I was just reading my new edition of the The Hockey News magazine TheHockeyNews the other day and noticed that my old acquaitance, Kevin Wood of Rebellion Hockey www.rebellion.com was back in the fold.
Kevin and I go back to my days with the Georgetown Raiders Jr.A period when we brought in for the players the Rebellions new line of hockey sticks. Well let me tell you now the Rebellion group have come a long way since then.
Rebellion Hockey at one point did sell skates in North America back in 2001-2007. They were great skates, very comfortable to wear but they didn't meet the performance needs of the high-end players.
Now they have come out with the Red Line series of skates, a premium model, that will give the players added comfort, performance and an extra edge to their competitors (we will get into that 'Edge' in a minute).
The Red Line series of Rebellion are manufactured in Arbesko, Sweden which have been making footwear for over 170 years I'm been told. This series of skate has been in the making for several years and what they have done is taken into account the 'bone placement' in the foot, to eliminate negative space and create an optimal fit.
Red Line skates have a lower cut design to allow the player a better range of motion and something else unique is their lacing pattern in that it pushes down on top of the foot, giving the player a secure lock in feel. Plus the top eyelet pattern slopes back to secure the foot in optimal skating position.
Another uniqueness about the Red Line skate is they feature the new QuikBlade holder system that the-quikblade-edge allows players to switch out their dull or damaged blades (runners) and replace it with new steel in seconds, without even having to remove the skate.
A very simple procedure to do, with a just click, flick and drop with no tools and there is no difference in the feel or performance of the skate.
As Kevin mentions, "We think this approach of adding the QuikBlade system to our skates can revolutionize the market." They have over 20 NHL players testing the skate and holder out over the past 2 years and now some have taken to wearing them full-time.
Have a quick look at the QuikBlade video below and be amazed at how easy and convenient this system is and go to Rebellion Hockey's website to www.rebellion.com check out the lastest in the Red Line series of skates and all the other products they carry.
By Warren Nye, UltimateHockeySource.com
July 29th, 2012