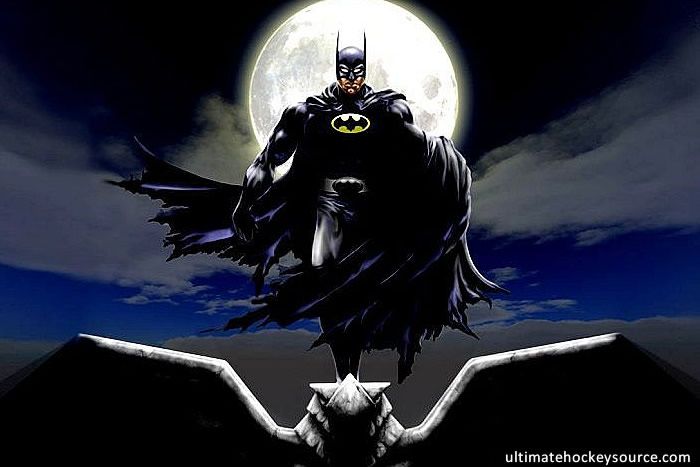 Okay, 'Riddle me this Batman?' (Alright I'm showing my age here) What do have when you get a team winning 7 road games in a row and non-factor player coming to life? Well for all you 'Cape Crusaders' out there you get the Road Warriors, aka the LA Kings and the guy in the cape who came out of no where to score a hat-trick (not one scored in LA playoffs since Gretzky '93) Jeff 'I Think I will Play Now' Carter. Only in LA Baby, only in LA!
After the first game the Coach here wrote that the Coyotes shouldn't panic, time to re-group and come into the second game ready for action. Well they did and they did play better at least in the first period but after that it was Kings and Carter. As Dustin Penner stated, ' We want the first goal, we want the second goal, we really want it now!, It's that intensity and that passion that drives us and its a good type of fear that stops you from letting games get away from you and continues to push you forward.'
I could stop right here because that quote tells it all. The Kings are out-hustling, out hitting and really just flat out, out playing the Coyotes at this point in all aspects of the game and to make matters even worse for the Phoenix team the next two games are back in LA where all the 'Glitters thats Gold' is.
The Coyotes seem to be out matched right now but I wouldn't completely put them out just yet. Coach Tippett and his players will re-group and come out with some kind of a different game plan in LA. But then again I like what another King player had said before this series started,' We play the way were are to suppose to play, we can't worry about the outside the rink stuff, the good weather or whatever you want to call it. We play within our system and the outcome will take of itself.'
The Kings were up in shots in this game and with the score 2-0 were in command as goaltender Quick held the fort down while his team mates forged ahead. On the PP which the Coyotes were down 2 men the Carter we all of known was coming out of his hibernation scored another to make 3-0 and the rest as they say was history for this evening.
Another player who is coming out for this playoffs is Big Forward Dusitin Penner. He is using his big body to create scoring chances for himself and setting up his team mates. He is showing the way by winning the battles along the boards and taking care of the Coyotes big guy and captain Shane Doan.
The Coyotes did show a little bit of frustration through out the game as Doan was giving a 5 minute major and a game-misconduct and Trevor Lewis was also shown the door after laying out Kings forward Brown with a viscous hit that had Brown down for a few minutes and helped off to the bench. The Coyotes were called for 13 penalties totalling 56 minutes and with that Carter was able to score 2 of his 3 goals while the Coyotes faced the 3-5 situations. Real tough to win any type of games, especially playoff games when you start doing those kinds of things.
By Warren Nye, UltimateHockeySource.com
May 16th, 2012