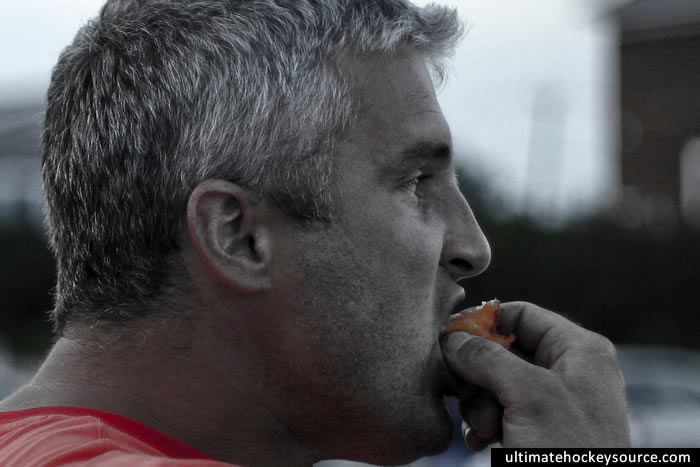 What do Luke Schenn, Steve Stamkos, Jeff Skinner, Jame Neal, Jordan Staal and Cody Hodgson all have in common beside being high profile professional hockey players in the NHL?
They are some of the healthiest hockey players in the world all because of one man, 'Scary Gary' or if your a rookie it's Mr. Roberts, as in Gary Roberts.
Once one of the premier power forwards who came out of retirement after realizing it was want he was putting into his body that was slowing him down. Through some radical changes in his nutrient diet and his workout habits he came back to play another amazing 11 seasons for 5 NHL teams, never without his various organic trail mixes and shakes that he developed recipes for that kept him ticking.
He had veterans and rookies looking at him throughout the NHL and some 'bit' at what was making 'Scary Gary'  keep playing the way he was playing and seeming to get younger at it.
All it is, is a high protien, high performance diet that all of us should be following as we get older. The more we watch what we are consuming and I mean by what we are putting into our systems, is it good stuff or is it bad stuff we have to pay attention to it, Gary says. We need to eat the right fruits and veggies, the right balance of protien. You know it is so easy to grab a granolar bar for a meal or snack but do you realize how much it is packed with sugar and additives? If you knew you wouldn't eat them as often or not at all, he adds.
I was reading a article from the The Globe and Mail about Gary Roberts and all his followers of NHL players and their diets and workout plans that Gary has put together and the one common theme is this if you want to be better then the next guy you must know what you are doing. That is both on the ice and off the ice in training. Those days of getting in shape when training camps starts are long, long gone. You need to be way above the 'norm' to play in the NHL, you need to be the 'Best That You Can Be' as second best doesn't cut it anymore in the 'New'  NHL.
By Warren Nye, UltimateHockeySource.com
Photo by Tibi
October 22nd, 2011