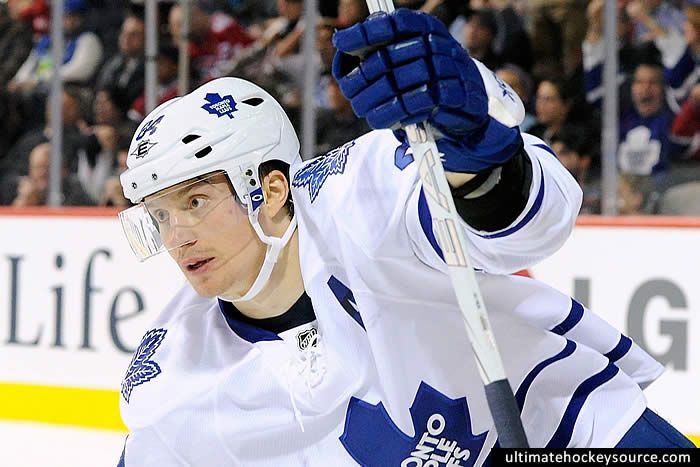 Ok all you Maple Leafs fans, are we all set for the 2012 NHL Draft this Friday June 22nd? Have you got your picks ready, all lined up? The next pick being yours will walk right into the Leafs line-up and be the saviour of all saviour's right?
Well I sure hope so as what I see and what a lot of others will tell you is that there is probably only 3 picks that can do that and the Leafs have the 5th pick lined up, so someone isn't telling me the whole truth!
We all think we know what the Leafs need in this pick but do we really? We can look at that the Leafs need some help in the center spot, someone to cozy up to Phil 'The Thrill' Kessel but I really think that's a long shot and we seen that story before (insert Nazem Kadri's name here). Look for the Leafs to go the trade route on that spot. So if that's the case then you always need more wingers right, A good big power winger dashing down the side and kicking that leg out cutting hard to the net, just like a Glenn Anderson use to do (the good 'ol days).
Then the Leafs might be thinking they have a few good prospects in the minors now that might fit that bill so lets take a good strong defence man, always a safe bet right? Sure we have alot of good one's also in the minors and even on the 'Big' team but maybe we can use a couple of those for trade bait to bring in the center-man we need? hmmmmm,… interesting though process here you say!
Hey one more thing to think about and we seem to be missing something here? What about one of the most important positions on the team. The 'Gaurded Tenders of the Twine', yup lets not forget about this position my fans. Sure we have James Reimer back there and I do feel one day he will be a good starter but I'm 100% sure he is not there yet, so does that mean we bring in 'vet' to help out? What about a big trade with our western friends, Vancouver (actually I don't think it will take much to get this done) and try to pry Luongo away with a teaser of a trade. You never know, you throw in a good defence man and late round draft pick and 'wham-bam' and Roberto is a Leaf (I'm not saying this would be good or not, I'm just saying ok!)
Ok, ok we now have some thoughts put together where we could help out the 'Brain Trust' of the Leafs this Friday but we need to put some names to all this right.
Now I have collected the list of what Leafs Nation Fans out there has put together (Thank-you Leafs Web-site) and then I have put together a list of my own in which which order of player that might be Leafs 5th round pick. Sound good? Great! So lets take a look below.
Leafs Nation Fans Picks c/o TML main website
1. Alex Galchenyuk -C
2. Filip Forsberg -W
3. Ryan Murray -D
4. Mathew Dumba -D
5. Mikhail Grigorenko -C
6. Radek Faksa -C
7. Morgan Rielly -D
8. Jacob Trouba -D
Coach Nye's Leaf Picks
1. Mikhail Grigorenko -C
He might be around while Alex won't be come time for the Leafs 5th pick
2. Radek Faksa -C
This kid can play and is still growing, while Forsberg will be a year or two away.
3. Mathew Dumba -D
Solid player, good speed, good shot and a little nasty-don't even think Murray will be around-Dreaming!
4. Cody Ceci -D
Has great size, Del Zotto clone, he will go earlier then you think.
5. Filip Forsberg -W
More suited for this spot right through draft as I mentioned before.
6. Morgan Rielly -D
Was out most of the season with ACL injury but came back strong in playoffs.
7. Olli Maatta -D
My sleeper pick – This kid is really good., highly skilled, shot is great, great PK man, sees the ice well.
8. Jacob Trouba -D
Smooth skater, good leader, high offensive talent with a mean streak too.
So now you have all the information you need and what all the 'Great Hockey Minds' can come up with to help out our 'Beloved Maple Leafs' (Burkie and crew should be thankful).
But again what the heck do we know, we are on this side of the TV screen and watching from the outside and BB and his Management team has way more info then we will ever know right?
My suggestion would be, is to sit back and listen/watch the fun on Friday and then go, 'Hey that's who I said to pick!' I should be a professional scout. I know my stuff!
By Warren Nye, UltimateHockeySource.com
June 19th, 2012