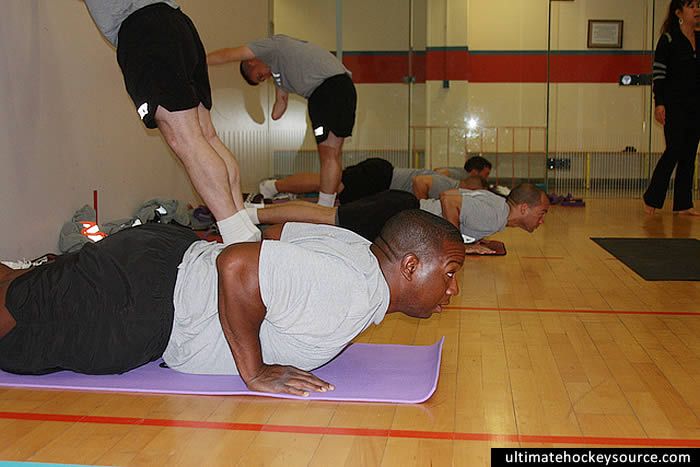 As teams throughout different Junior leagues across the country are winding down in their playoff drives, many players are now focusing on off ice training.
One of the biggest and most useful training techniques that is being done is Yoga. It isn't new for the professionals as alot of NHL and AHL players will take up this form of exercise in the off season ans some even continue throughout the playing season buts it the younger players that need to adapt it into their routines now.
Any top notch fitness training in the hockey world will mention that Yoga needs to be considered or performed as it has many great advantages.
Yoga will help you develop a better core, better lower back flexibility which helps your overall strength throughout your body. It will also give you better balance and concentration, focus at the task at hand.
Speaking to a Yoga instructor for this article, she mentioned one of the better stretches for a hockey player is the Triangle pose. She mentioned that the pose is great for the player as it focuses on the spine, lower back and flexibilty on the lateral muscles and hamstrings.
In this exercise you build up the strength in the lower back and upper legs while at the same time remove the tension from the lower and upper back, hips and hamstrings through both the twist and the stretching. It is also said that this particular stretch is good for your sense of coordination and sense of balance which is very critical for hockey players.
Step By Step Stretch
Below in the video the instructor will go through all the proper movements step by step but the one thing they always mention is to listen to your body and stop if you feel any pain.
Keep an open mind and you find that this and other yoga stretches will help you in the game of hockey.
By Warren Nye, UltimateHockeySource.com
Photo credit: familymwr
March 31st, 2012